Our committee structure is set up with two purposes in mind:
Volunteer time is valuable and a very finite resource. We want our members to be able to laser focus on the specific things that interest them and fire them up, and not have to spend time on aspects of Pugwash they're not interested in.
At the same time, at any given time we may have dozens—and eventually maybe hundreds—of programs going on, and it's important not only that the Board and managers of Student Pugwash and the Rotblat Society be to understand the scope of our activities, but it's equally important that any member can navigate it to determine exactly whom to talk to about getting involved or starting something new.
As a result, we have a rather promiscuous structure of committees, working groups, and project teams. This should be understood as a mind map of the organization, and not a hierarchy. The "center" of the map looks like this: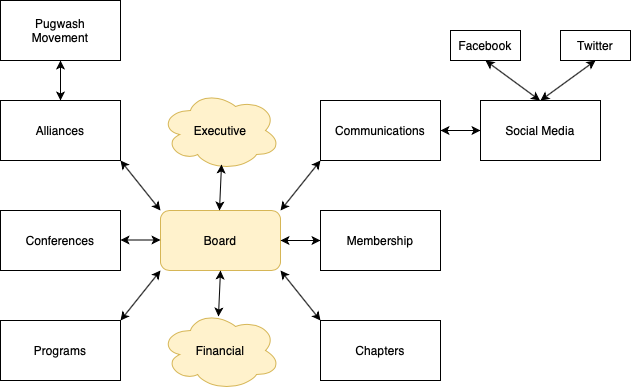 The logic goes as follows: not everyone on the Board wants to work on our external communications and media, so they created a Communications committee that was originally populated by those on the Board who were interested. This has an added advantage that people who are not on the Board can now join this committee and get involved. In turn, some people there cared about social media and others did not, so they created a subcommittee for that. And so on to the project teams running the Facebook and Twitter accounts.
Each group has a chartering document detailing the powers and responsibility each has—for example, a program may have its own budget, and the Facebook team doesn't need to get permission to post—and usually has to write an occasional report back to the group that commissioned them. This group includes a summary of that information in the reports that they write, and so on up to the Board. "Up" is accurate, because the Board is the only body in the organization that's hierarchical—we're required by law to make the Board responsible for everything in the organization.
There are two special committees near the Board in the diagram. The Executive Committee is comprised only of Board members, and acts for the Board on urgent issues in between the quarterly Board meetings. The Financial Committee sets broad policies where we spend our money, so it's likely the case that every other committee in the organization will talk to them at least once in a while.