We've created an officer role named "Liaison," with no upper limit on the number of people who can hold the title, in order to coordinate our many working groups and committees. Here's the map of how the committees are connected: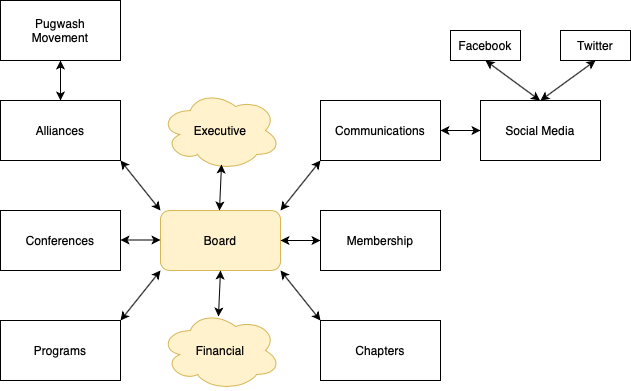 Liaisons are the arrows between each of these groups.
Each chartered committee and working group has responsibilities to other groups in Pugwash. It's the responsibility of a liaison for each committee and working group to keep the Chair of that committee on track. The liaison also serves as a primary resource for the working group when they need to connect with other groups—or when the liaison suggests that they should. Finally, while regular members would contact the Chair of a committee for more information about what they're doing or how to get involved, in general, most communications between groups in Pugwash are through their respective liaisons. We do this for several reasons:
When we're very busy, this structure can get complicated and no one person can keep track of it all. By distributing responsibility among the liaisons to keep committees on track with their reports to other groups, we can divide up this work into reasonable amounts for a volunteer to complete. One liaison may act for more than one committee, but no liaison should take on more work than they have time to handle.
Liaisons are not members of the committees they connect, but must be invited to all meetings and communications, such as mailing lists or Basecamp discussions. This way, there's a neutral ombudsperson on any committee, and if there's any friction or difficulties, everyone on the committee knows whom they can talk to in order to resolve a problem.
Likewise, the liaison protects committees from "bungee bosses" on other committees or the Board. In many organizations, a committee can work hard on a project for months, only to have a Board member come in to make "helpful suggestions" that forces them to redo their work. By channeling intergroup contact through liaisons, they can act as a communications facilitator to resolve these problems—although the collective Board does have final say, because they're required to.
Liaisons have their own discussion community on Basecamp where they can bring questions and issues to other liaisons for help and advice. The premise—which we'll be testing—is that an established group of liaisons will become an invaluable resource to Pugwash, knowing the most about how the organization operates, and becoming the nerve center keeping everyone networked and connected.
The position of liaison is almost always open to new people; get in touch if you're interested.